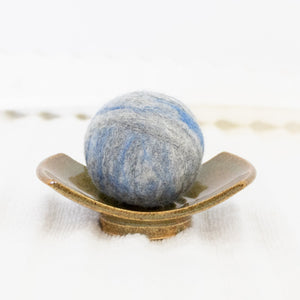 materials: organic olive oil, coconut oil, fragrance or essential oils, merino wool
size: 1 ball is approximately 4 1/4 oz
Handmade in Madison, Wisconsin
Our felted soap balls are handmade in small batches using only the highest quality ingredients. We start with organic oils and carefully chosen scents to make our long-lasting cold-process soaps. After curing, they are wrapped in Merino wool and felted by hand.

These high-quality, olive oil-based soaps lather extremely well. Wrapped in naturally anti-fungal sheep's fiber, the felted soaps act as both a wash cloth and exfoliating loofa combined. As the soap shrinks so does the wool, leaving you with a small, multi-purposed scrubby that can be used in the kitchen, bathroom, etc. After each use the natural wool absorbs the lather with no need to rinse, leaving you with a longer-lasting soap.
Can be used as
*hostess gifts, teachers gifts, stocking stuffers
*in the shower, bathroom, & kitchen
*air fresheners in your gym bag, boots, car, & locker
*the perfect two-in-one soap and washcloth to bring along camping and to the gym
Through our wide variety of heavenly scents and carefully selected colors, our soaps are perfect for a broad range of gifts and occasions. 
DISCLAIMERS:
*Each handmade soap ball is approximately 2 1/2 inches in diameter.  It can slightly vary in size, shape and color from the images above.
*Soap dish can be purchased separately in our accessories section.
*FOR FIRST TIME USE: Rub vigorously under hot water until heavy lather develops. After first use, soap will lather well each time.