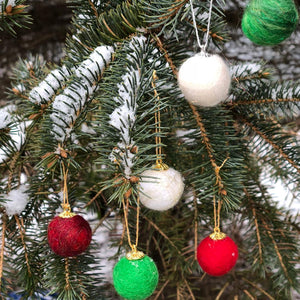 Set of 6 felted ornaments.
These adorable handcrafted felted tiny ornament sets include six holiday colors. Colors include Sparkly White, Cranberry Red, Green, Sparkly Gold, Blue, and Sparkly Red.                                                                                                                     
Choose between a Silver or Gold ornament topper and string.                                                                                                                                           
Can be used as an ornament for your tree, tied onto a gift, or as a holiday potpourri.
If used as potpourri, purchase our essential or fragrance oil and apply a drop to the top of each ornament. The scent is long lasting and can be reapplied as necessary. 
Handmade needle-felted ornaments. 1 1/4" in diameter.